InnoLIMS®
InnoLIMS® for Service Laboratories
Home / InnoLIMS / For Service
In service laboratories cost-efficiency is one of the most important competitive factors. InnoLIMS® enhances a service laboratory's operation by transferring routine work from workers to computers. InnoLIMS brings efficiency for service laboratories with the following features.
Customer Service
Customers' orders and all information related to them, such as background information and timetables, are registered in InnoLIMS®. Samples and analyses ordered from them are registered to an order. When the results are done, they are fed to the samples in InnoLIMS® manually, with an instrument interface or from Excel. When the results are saved, an analysis report can be made and sent for the customer with the click of a button. An electronic signature can be printed on an analysis report.
The customers can make their analysis orders via the InnoLIMS Extranet™ interface. When an order is made, its information can immediately be seen in InnoLIMS www. The analysis reports can be shown for the customers in InnoLIMS Extranet™ as pdf files. The results can also be shown in Extranet in table form, from where it is easy for the customer to copy the results and transfer them to other programs, e.g. Excel.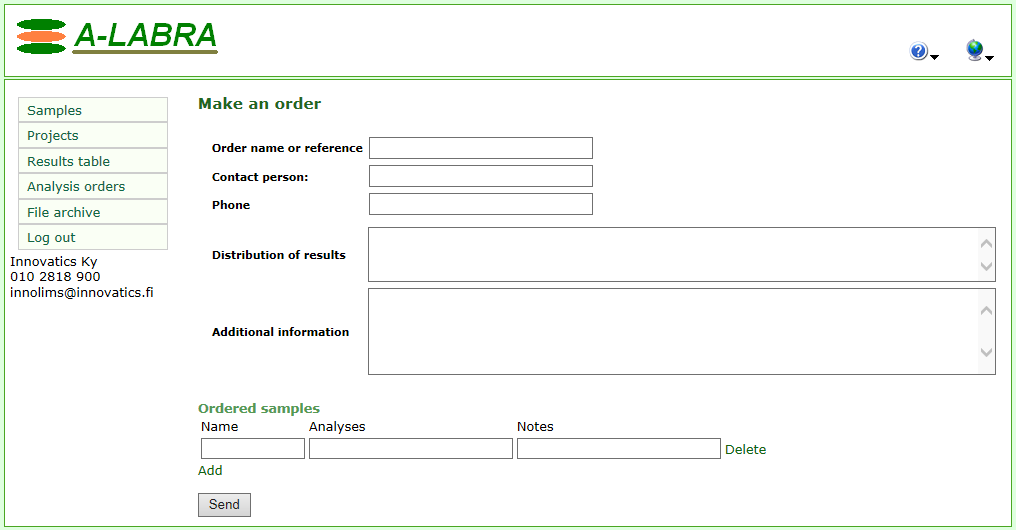 Billing
Projects, subprojects and orders can be billed with InnoLIMS® according to the analyses made or time used. Different price lists, price coefficients, package prices and agreed prices can be used in billing. The bills can be made directly with InnoLIMS or the billing information can be transferred to a finance management system. InnoLIMS supports paper bills, pdf bills and e-invoices (finvoice). InnoLIMS includes an accounting register, which keeps track of paid and unpaid bills.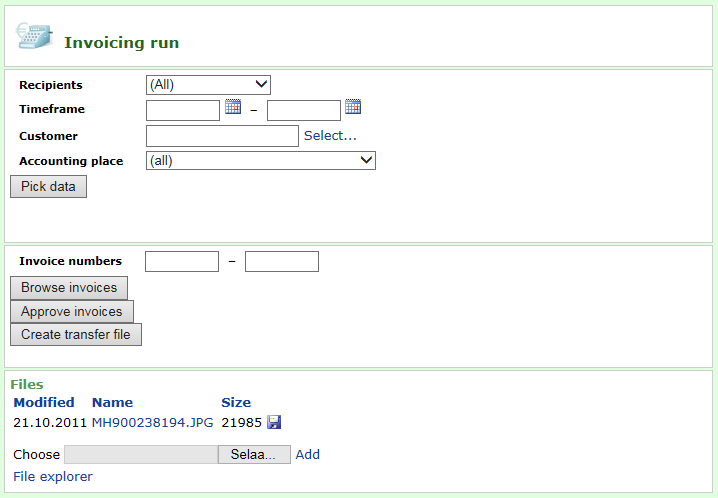 Sample Management
When samples are registered, they automatically get unique sample IDs. There is an option for printed labels with barcodes. Afterwards, the samples are visible on work lists and sample queues. When the results are registered, the samples are removed from work lists. The system calculates mean and standard deviation values automatically from parallel measurements. The samples' status can be monitored constantly.
The calculation module InnoCalc calculates results from measured values using user-defined calculation formulas. Continuation samples can be registered and different samples can be combined as a composite sample. The samples include an electronic archive for attachment files, such as cover letters and spectra.
Customer Register
InnoLIMS® includes a customer register. It can be used to store information about customers and to show a specific customer's projects and samples. Customers can be Extranet users, who can make analysis orders and see results from their completed orders in InnoLIMS® with their browser. The customers have a log, where the InnoLIMS users can write about all interactions with the customer. A chronologically ordered log report can be printed.
Specifications
Specifications are saved for different research objects and methods. The specifications include inner and outer limits for different attributes. InnoLIMS® sends out a notification immediately if specifications are exceeded. Outliers are shown in result tables with a distinctive background color. Specifications can also be shown on analysis reports, according to the customer's needs.
Statements
InnoLIMS includes a statement library for commonly used statements on analysis reports. The same statement only needs to be written once in the statement library. From there it can be added to the project or order seamlessly.