Oskari-OK-Net™: A Complete Solution for Shareholder Management
Shareholder Register Oskari™
Home / Shareholder Register / For Private Companies
Oskari™ is a complete shareholder management solution for private companies and cooperatives. Using Oskari, your company can calculate dividends, deduct pre-tax withholdings, and pay dividends using the SEPA payment method to beneficiaries. Up to date ownership information is vital for a company's board, owners and investors. Oskari provides up to date information about major shareholders and changes in their holdings to the board and other parties needing it. The same information can be displayed on the company's website.
Oskari™ has easy to use tools for updating the register. Transactions of shares are quick and reliable. Your company can have several share classes and several amounts of shares in share classes. Each share class can have a different number of votes or no votes at all. By using Oskari, companies can move to electronic shares and stop using paper share certificates.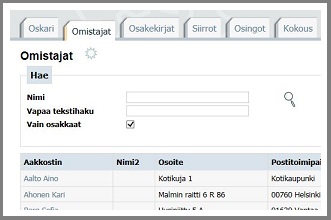 Oskari™ is able to create share and dividend certificates for shareholders. The certificates display the total amount of shares, their history, the dividends, and the history of dividends.
For the company, Oskari creates a list of shareholders, shares, the history of share transactions, the list of dividends, the history of dividends, and payment files to be sent to bank office.
Aside from reports, Oskari™ has a feature which allows the user to create ad-hoc queries from the database. Both electronic and paper mailings are supported. The beneficiary of a dividend can be someone else than the shareholder. The users can use different criteria to filter most of the lists.
The internet-module Oskari-www™ contains internet components to show on company's website for example major shareholders, sector dispersion and holding dispersion in different languages.